About North Ealing Against HS2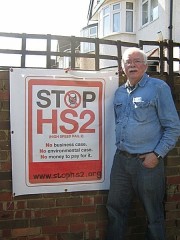 LEFT: EDWARD PAWLEY - NEAHS2 CAMPAIGN CO-ORDINATOR
OUR MISSION
North Ealing Against HS2 (NEAHS2) is a growing affiliation of thousands of residents in Northolt, Greenford, Perivale and North Acton who will be adversely affected by HS2 with nothing to gain from it.
We are run by local people - some of whom are trustees of local schools, local businesses, chairs of residents associations and neighbourhood watch teams - who care deeply and passionately about their communities and the North Ealing area, who are actively involved in local community events and who work to make their neighbourhood a better place. Our goal is to Stop current HS2 plans, to strengthen and empower the community and to make our neighborhood a better place, not a worse one.
NEAHS2 is campaigning on two fronts, firstly in alliance with the national Stop HS2 campaign to stop HS2 altogether.
NEAHS2 is campaigning for Ealing Council, as Hillingdon Council and recently Labour led Camden Council have done, to join the 51m group formed of 18 councils that have to date come together to challenge the evidence base of the HS2 project. They are known as '51m' because that represented how much HS2 would have cost each and every local authority in the country - £51million – when the 51m group was formed. This cost has subsequently increased.
If HS2 is built along its current route proposal NEAHS2 demands the extension of the bore tunnel that the Department for Transport has promised beneath Ruislip under Northolt, Greenford and Perivale.
The Department for Transports's view that a tunnel beneath North Ealing is too expensive is unacceptable because the Ruislip and the Chilterns tunnels were clearly not too expensive for the government. 20 years ago the whole of the Channel Tunnel Rail Link (HS1) through East London (16 miles) was tunneled in order to reduce impact on people in East London. The same principle of prioritising minimising disruption for affected residents and putting residents first should now be implemented if HS2 is built through West London.
Please browse this website to find out more about us and our events. We rely on donations to our cause so please give generously - support us.
We are not only looking for financial support - although the smallest donation you can give is greatly appreciated and will help us imensely - you can get involved by volunteering too to help your neighborhood: the more people that unite against HS2 the stronger we are.
____________________________________________________________________

OUR HISTORY
The original group Ealing Against HS2 was founded & chaired by Albertina McNeill of Greenford in April 2011 after she visited one of the HS2 roadshows staged by HS2 Ltd. Alex Nieora of Perivale took over as chairman of North Ealing Against HS2 in January 2012.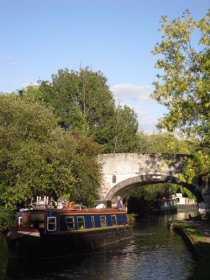 Photos
Click through our photo Gallery and get to know us.

LEFT - Grand Union Canal through quiet leafy Perivale