HS2 LTD DRAFT ENVIRONMENTAL STATEMENT ROADSHOW
HS2 Ltd will be holding information events based on the recommendations laid down in its draft Environmental Statement. 
The information event roadshow will be coming to North Ealing on:
17th June 2013 between 12pm and 8pm at Perivale Community Centre
WARD FORUMS
In the next few weeks Ealing LBC councillors for the wards of Perivale, Greenford Green and Northolt Mandeville will be having their ward forums.
Come and tell your councillors - your elected representatives - what you think about HS2!

You can also write to your local councillors - you can find their email addresses here
Please make a note of the dates, times and locations of the Ward Forums, which are as follows:
**NEXT WARD FORUMS IN JULY**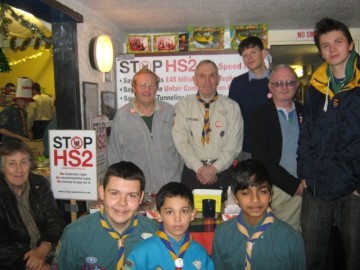 LB EALING INFORMATION EVENTS
NEAHS2 has held five very successful information events attended by hundereds of local residents at Perivale 3rd Scout Hut, Westway Cross Shopping Centre Northolt Leisure Centre, Perivale Library and Greenford Library. A very well attended action group meeting was held on 14th January 2013 at Northolt Leisure Centre - SEE BELOW.
ABOVE: NEAHS2 information event at Northolt Leisure Centre on 8th December 2012, which drew several hundred visitors
COMPENSATION CONSULTATION ROADSHOW
HS2 Ltd held a Compensation Roadshow on the 3rd of December from 12-8pm at the Barn Hotel, Ruislip. HS2 Ltd failed to provide a seperate roadshow for Ealing, Denham or Harefield.

North Ealing Against HS2 held an alternative roadshow in the Ruislip Rugby Club across the road from the Barn Hotel which was better attended than the HS2 Ltd event. The event was also attended by Stop HS2 action groups from Ruislip, Harefield and Ickenham.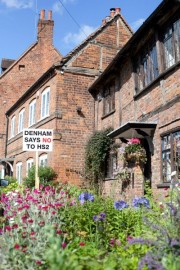 DENHAM CURRY NIGHT
The event was organised by Denham Against HS2. Among the many attractions were the Bucks-based band Dirty Mavis, who composed the stirring Oak Tree Lament that came close to achieving Christmas No.1 in 2011 and inspired many people to join the campaign against the high speed train. There's was a quiz and raffle, both with fantastic prizes, and an exotic Nepalese menu with a vegetarian option.