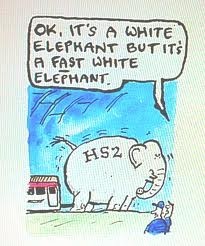 CAPACITY
A 2005 study examined rail projects undertaken worldwide between 1969-1998. In more than 90% of all the cases, the number of passengers projected to use the system was overestimated. On average planners overestimated how many people would use the new rail projects by 106%, and the average cost overrun was 45%. As more evidence accumulated, the experts did not become reliant on it. HS2 project that rail passenger figures will increase by over 280%. This delusion is a complete failure of forecasting and overly optimistic forecasts are designed to force their outcome of the project.The All Party Parliamentary Group on HS2 (pro HS2 lobby group in Parliament) may claim that HS2 is needed because of capacity constraints but there is plenty of evidence to the contrary.
The Department for Transport has repeatedly refused official data on peak loading and a peak time survey of Intercity trains from Euston to the Midlands and North along the West Coast Main Line ('WCML').
Transport Secretary Justine Greening has actually stated:
'My written response of 16 December 2011 to the Committee confirmed that, though the Department of Transport has – with the explicit agreement of the train operators concerned – published lists of most crowded trains no other data on train loadings have been released as this material is held under the terms of commercial confidentiality. It is the publication of the list of crowded trains that was covered by the media during 2011.'
Thus while all other loading figures across the country were available WCML loadings are apparently restricted due to commercial confidentiality.
Perhaps we should not be surprised  that the DfT had something to hide - the DfT finally conceded during the judicial review in December 2012 that trains running from Euston were only 52% full.
Network Rail's Rail Utilisation Strategy dated July 2011 'RUS' had already revealed - despite the fact that the Department for Transport have consistently refused to release passenger loading data on the WCML - that long distance services in to and from Euston are operating at just 60% of capacity for the three hours of peak morning demand, and just 64% in its busiest hour. This makes trains to and from Euston the least busy long distance service with a terminus in London. Furthermore, Euston utilisation has fallen with more carriages added this year. By contrast trains from Paddington and Waterloo (which both account for a high proportion of local greater London urban railway journeys) both show over 100% capacity usage at peak hours.
By 2031, after the first stage (but before the second stage Y network) of HS2 is due to be built, Network Rail assume in their RUS report that long-distance services into Euston will have become the most under-capacity part of the London network, as the projected forecast of 6,500 passengers in the peak hour at Euston will be just 47% of the projected 13,796 capacity.
Clearly there will be no capacity crunch on the West Coast Mainline for many decades, if at all. The 51m group alternative in fact delivers more capacity than the Department for Transport forecast for HS2, has a benefit cost ratio of 5 rather than the current HS2 plan BCR of 1.2* and would provide the new infrastructure identified in the Rod Eddington report.
*using the latest Passenger Demand Forecast Handbook (v5.0) the BCR is cut by a further 0.4, using the correct figure for business passengers' earnings cuts it by a further 0.3 and assuming time is not wasted on trains cuts the figure further still so the true figure is likely to be under 0.3, i.e. 30p of benefit for every £1 invested.
In fact nearly half the population uses a train less than once a year and, more particularly, long distance travel accounts for barely 10% of total rail journeys
Independent market research by Customer Research Technology Limited confirms the RUS fIndings. The research reveals that the average loading across all peak trains (16.30 – 18.59) was 56% and loadings on the peak Manchester and Liverpool services were on average less than 45% full.  
 
Network Rail, in which Volterra Consulting's economist Bridget Rosewell, who HS2 Ltd bring along to all their presentations, has a directorship - in fact use a misleading technical sense of 'full'. 'Full' is when, at certain times of day, it would not be possible to provide train paths for extra services which train operators wanted'.
Network Rail's own forecasts do not support High Speed Rail. Network Rail and the DfT claim that there will be a doubling of capacity demand but admit that the 51m group alternative plan to HS2 would triple capacity.*
*(HofC Transport Committee Report, High Speed Rail, 10th Report of session 2010-12 pages 92/3; Network Rail's Review of the Strategic Alternatives to HS2, November 2011, Section 2.3.3, page 17 and section 2.3.2 page 13; High Speed Rail Strategic Alternatives Study Update by Atkins, January 2012) 
Furthermore the load factor on the WCML will reduce to even lower levels this year as two extra carriages are to be added (providing 51% more standard class capacity) and significant improvements in the Chiltern Line into Birmingham which are resulting in a transfer from the West Coast Main Line. Quick and easy access to free Wifi on the Chiltern Line is a factor in this transfer as business people opt for on-board productivity over time savings. And if the recent Evening Standard ad offering 20,000 tickets to Birmingham on the newly upgraded Chiltern Line for 50p is anything to go by there is loads of capacity! 

Evening Standard 50p Offer - Register Your Details
Did you know the best way to travel between London and Birmingham is now Chiltern Mainline? And with amazing fares from just £25 return, even when you depart from London in the morning peak, it's a fantastic price too!
Following a £250m upgrade, passengers on Chiltern Mainline can now travel from London Marylebone to Birmingham in as little as 100 minutes.
To celebrate, we're offering Evening Standard readers the chance to visit Birmingham on Mainline for just 50p return.
____________________________________________________________________________

What about the future?   
The most recent population projections from the Office for National Statistics ('ONS') indicates that by 2033, under government proposals the London to Birmingham section of the HS2 will be in its eight year of operation and the onward sections to Manchester and Leeds would begin operating. Approximately 64% of the population growth will be in the over 60 age group. A further 15% of population growth will be children and young adults under the age of 19. Only 21% of population growth will therefore take place in the 19 to 60 age group.   On a regional basis, in the West Midlands government region 93% of population growth will be under 19 or over 60, in the Yorkshire and Humber government region its 68%, while in the North West government region the figure is 100% - i.e. the population growth in the North West will be entirely comprised of the 0-19 and 60+ age groups while the 20-59 age group will in fact diminish.  
Why are these figures significant?
According to current rail statistics from the National Rail Travel Survey 2010 both the 0-19 and 60+ age groups take relatively few rail trips. About 2,280,000 rail journeys are made by people in the 20-59 age group and only about 410,000 in the 0-19 and 60+ age categories. By far the greatest projected population growth will be among age groups that don't typically use trains. The 20-59 age band is the major demand pool for rail travel – 85% of the total - yet nationally only 21% of population growth will be taking place, according to the ONS, within this category in 2033. Regionally only 7% of population growth in the West Midlands will be from the 20-59 age group category, encompassing Birmingham and while slightly more place in Yorkshire and the Humber encompassing Leeds - 32% will be from this age category, the percentage figure for the North West, encompassing Manchester is 0%.  
Despite this, there appears to have been no consideration given to this important demographic factor in the HS2 passenger forecasts by the DfT, nor in any of their demand sensitivity tests.   
If it is the government's belief that HS2 will help to disperse population from an overcrowded London, but this would seem to be wildly optimistic. The reality is more likely to be the converse, as one economic commentator has put it: HS2 will encourage more people from Birmingham – and from Manchester and Leeds once the Y network is completed – to migrate to central London, which is already overcrowded and whose own transport infrastructure is buckling under pressure. 
More generally the ONS has reported that nationally it is:
'expected that the current gap between births and deaths will continue to grow until about 2015, after which – with the large cohorts born after the Second World War starting to reach advanced ages – the number of deaths will significantly increase'.   'The continuing rise in the longer-term, when the total fertility rate is assumed to be constant, is due to increases in the female population of childbearing age resulting from assumed net inward migration'.
Do we believe that migrants and the children of migrants driving natural population growth after 2015 will be able to afford regular travel on HS2?
Indeed is it really in the long term interests of the country to increase its population growth and buckle from the sustainability and public infrastructure crises this will create? Would it not be more effective, from the perspective of the need to maintain sustainable long term national transport and indeed national healthcare, housing education etc. infrastructures, for government policy to focus on tightening controls on immigration and disincentivising natural growth?   ONS projections certainly look at the effect of reduced international migration and this is a stated government objective that has been repeated several times in the past year. If this policy objective worked, the variant ONS projections indicate that there could be millions fewer 20-59 year olds than there are at present (under a 'balanced migration' scenario). 


SPEED
BELOW: HS1 Chairman Rob Holden criticises the planned 400 kph HS2 line in Rail Magazine, going on to say: "Somebody needs to take a grip of HS2 and manage the engineers".
But what about speed - won't getting to Birmingham, Manchester and Leeds more quickly from London drive economic growth?
It cannot be pretended that longer journey times would have any benefit on economic growth when, as was submitted before the Transport Select Committee last year, people will not work harder or longer simply because they arrive at their destination 20 or even 40 minutes earlier. This would be the same fallacy as suggesting that increasing the motorway speed limit might benefit the economy. (What it would in fact do would increase wear and tear costs for motor vehicle owners and decrease the shelf life of motor vehicles). The reality may be cynical but it is still the reality – the only thing HS2 might do is allow the 3% of the population who would use it to stay in bed longer or complete their working day earlier. Doubtlessly this would be an attraction for a minister, secretary of state, or European Commissioner, given the stress and responsibilities associated with these positions but it certainly won't help ordinary people who won't be able to afford it.
By pushing ahead with HS2 the government has ignored and indeed written off the environmental and sustainability benefits of teleworking and video conferencing. Nearly half of the claimed £44bn of benefits supposedly resulting from the 'Y' network (over a 60 year period) is dependant on journey time savings equating to productivity benefit but for those who really need to work and travel the government has ignored huge factors such as people working on trains with laptops, mobile phones and other handheld electronic devices such as iphones and Blackberries, which would not require expedited destination arrival. By the government's own figures 70% of journeys will be leisure journeys which will bring absolutely no benefit to economic growth. Leisure journeys do not contribute to wealth creation by definition. The most they may achieve is to shift the geographical location of spending, but of course the price of a train ticket is a disincentive to travelling across the country to spend money when there are plenty of leisure facilities already in the few large cities that would be served by HS2.  


BELOW: government's own video recommends video conferencing rather than travelling! (during the London 2012 Olympics)